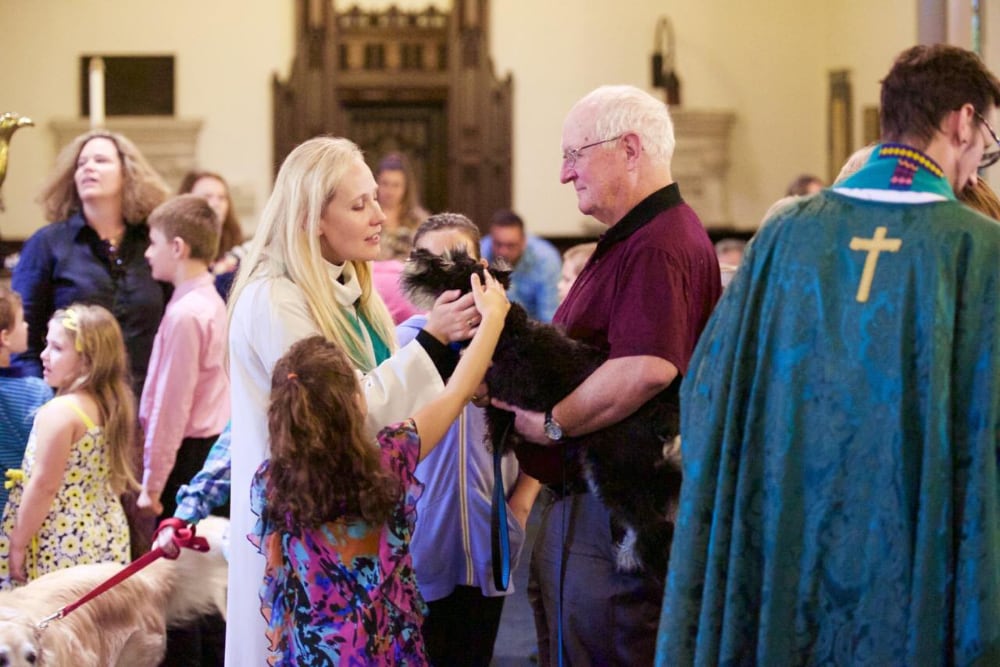 Lift up your hands in the holy place and bless the Lord. — Psalm 134
I am priest. I spend my days in ministry at St. George's Anglican Church, a 226-year-old church in downtown St. Catharines, Ontario. But 'priest' also describes who I am as a writer.
The work of the priest is the work of "lifting up." The priest lifts up the stories and experiences, questions and doubts and miracles of her people. The priest's job is to help the people, both inside and outside of the church, to see their story as part of the story of God's love at work in our world.
My blog is filled with stories reflecting on everything from an interesting conversation with one of my children to political musings on the times in which we live. I look for joy in the whirlwind of the Parent-Work juggling act, come clean about my own doubts and struggles in faith and tell of experiences of wonder and miracle. I find words of wisdom and insight not only on the pages of Scripture but also from such diverse sources as StarWars, Eminem, and my chiropractor.
Recent and Popular Blog Entries:
What if  COVID-19 changes nothing? https://www.christiancentury.org/article/opinion/what-if-covid-19-changes-nothing
I had an eating disorder, and it is time to share that story
https://medium.com/ministrymatters/i-had-an-eating-disorder-and-it-is-time-to-share-that-story-d52be99c8ccd
The Greatest Teacher, Failure Is
https://medium.com/ministrymatters/the-greatest-teacher-failure-is-74c76f3651f5
What Does 'Trust God' Really Mean?
https://medium.com/ministrymatters/what-does-trust-god-really-mean-4e6eb47d8cf4
Rolling Stone's Top 100 List:  The Sound of Prayer
https://medium.com/ministrymatters/rolling-stones-top-100-list-the-sound-of-prayer-d3c5652c63d5
A New High
https://medium.com/ministrymatters/a-new-high-4d90bb2e2b32
A Sidewalk Birth
https://medium.com/ministrymatters/a-sidewalk-birth-e6fcc0f86af3
Archives:
The conversation about faith and sex that The Bachelorette sparked
https://www.christiancentury.org/martha-tatarnic
Eating Niagara: Anglican priest offers new take on diet books
https://www.stcatharinesstandard.ca/living-story/9601677-eating-niagara-anglican-priest-offers-new-take-on-diet-books/
Anglican Theological Review (2005 & 2014)
In 2014, I published an article called "Whoever Comes to Me: Open Table, Missional Church and the Body of Christ," in The Anglican Theological Review
http://www.anglicantheologicalreview.org/static/pdf/articles/tatarnic.pdf
In 2005, the same journal also published my article, "The Mass Media and Faith: The Potentialities and Problems for the Church in our Television Culture."
http://www.anglicantheologicalreview.org/read/article/427/
The living diet: An interview with author Martha Tatarnic
http://pencilsandpopcans.com/the-living-diet-an-interview-with-author-martha-tatarnic/
Jesus, food and a way of life – Eating played a powerful role in the shared journey of Jesus and his followers.
https://niagaraanglican.news/2019/05/25/jesus-food-and-a-way-of-life-eating-played-a-powerful-role-in-the-shared-journey-of-jesus-and-his-followers
It's Been A While… And a Book Review, Too.
https://preceptsandlifepreservers.com/its-been-a-while-and-a-book-review-too/?fbclid=IwAR0J0O6Yha9tiKqfiYL6p-HL5NlXGtXIg8FufMysBRup4qYoAJUo65vQPrI
A minister found freedom from viewing food negatively, and now helps others
https://faithnewsniagara.com/archives/jun/june-19/martha-tatarnic-living-diet.html